interview with freelance photographer Luca
Find a freelancer on Fiverr
What project have you hired a freelancer for on Fiverr? What did you need?
I am a freelance press photographer based in Toulouse. In particular, I work for Reuters Agency in Italy, various press agencies in France, but also film and theater festivals all over Europe, as well as political events. I am also a drone pilot.
As part of the launch of a new project, I turned to Fiverr services: to create a strong visual identity for my Instagram account to increase my visibility with potential clients in the Toulouse area. My current clients are mainly based in Paris and I wanted to introduce myself to a more local target.
My goal was to improve my presence and visibility on Instagram to increase my exposure to potential clients. That's why I wanted to create a strong visual identity and develop a content strategy that matches my activity as a photographer on Instagram.
So my marketing goals were simple: work on my visibility and popularity, increase the number of subscribers and engagement on my Instagram account.
The measures to be taken to achieve this goal are clearly indicated:
Creating a strong visual identity specific to my brand,
Customizing my Instagram feed,
Recommendation of a content strategy adapted and optimized for Instagram with 10 publications (posts and stories).
All these events had to reach targets that I had previously identified and were potential prospects: real estate agencies, hotels and restaurants, event communication agencies, architects and interior designers.
What exact skill(s) were you looking for and what Fiverr profile did you use to help you?
To fulfill this mission, I was looking for a versatile profile, but with real experience in social media and content creation on Instagram.
I was able to use the various tools provided by Fiverr and especially the rating system as well as comments to find the right profile. I was specifically looking for a French speaking professional living in France and preferably with Fiverr Pro status. The filter system on Fiverr makes it easy to display profiles that are truly interesting with the skill(s) being sought.
After my research, I found several interesting profiles and contacted them to save only one: Virginie Reynaud.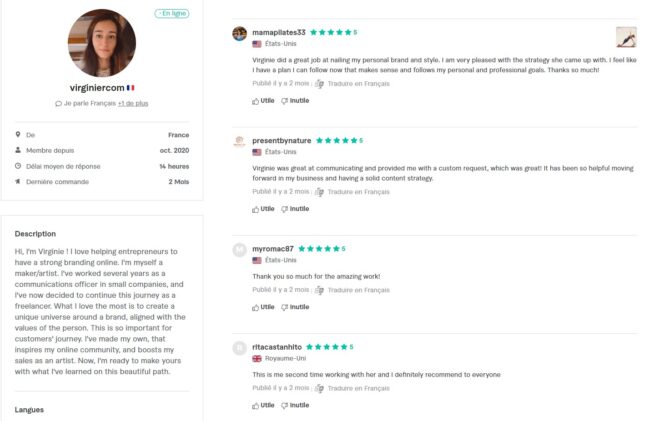 Can you tell us how your project is going (profile selection, brief, sending deliverables, etc.)?
After choosing the right profile, we worked together for 3 weeks. Virginie therefore took over everything: the management of the Instagram account, the rebranding of the latter, the posts… She just asked me to provide her with the assets she needed to feed my account: drone shots, photos, etc.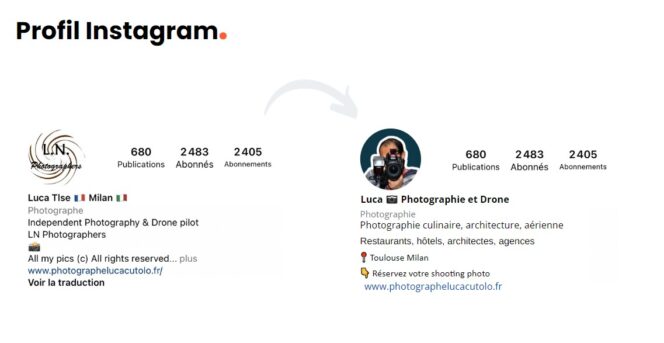 Purchased "Instagram 10 All-Inclusive 25 Hour Package" includes details on:
Creation of visual identity of articles, implementation of stories on the front page and rewriting of bio,
Implementation of social media strategy and creation of 10 posts,
10 related images and correct hashtags,
Publication of 10 stories,
Creation of an editorial calendar and programming of articles, as well as publication of stories,
Implementation of engagement strategy with other accounts.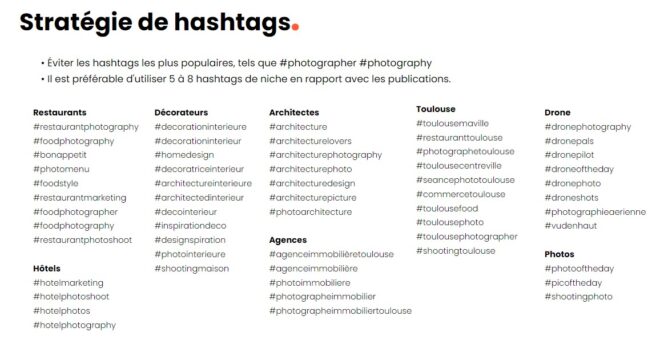 Overall, the service provider offered me a turnkey Instagram strategy with many ideas, as well as specific formats and content examples to post: reviews, tips, FAQs, before/after infographics, achievements with my clients…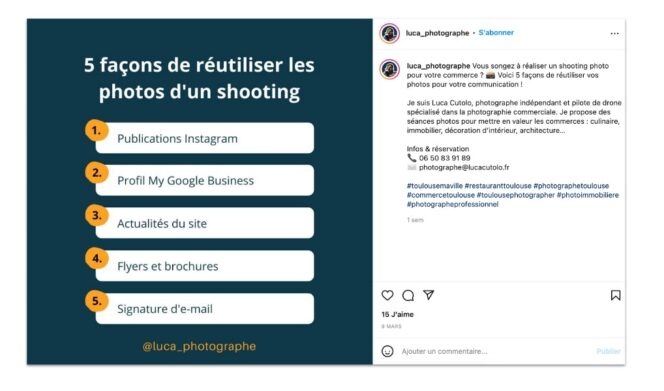 Find a freelancer on Fiverr
What results have you achieved with Fiverr? What was the effect of "business" on your activity?
The results of these actions were almost immediate. From the first editions, the number of subscribers increased, the commitment was there. I had a few requests from a purely business point of view and signed 5 quotes. On my scale, this is a great spin-off! These quote requests are constant today, and since taking over my account, Instagram has really become an important channel for my business.
Thanks to Virginie Reynaud's work, I was able to reach 9700 accounts in 30 days (a 1500% increase) and saw my engagement increase by 118% compared to the previous month.
What do you think about the experience offered on the platform? What is its added value (multiple profiles, payment security, profile quality, user experience, etc.)?
Above all, Fiverr allowed me to connect and work with an expert profile that I didn't know and wasn't in my network. Fiverr offers the ability to easily find high-quality profiles with diverse and highly specialized skills. The price is obviously more reasonable compared to the service supported by an agency. For me, this was also an important element.
Another advantage: security in terms of payment and communication. The platform is a trusted third party that saves the customer from non-delivered services. Unfortunately, it can happen in over-the-counter contracts.
What advice would you give for a successful partnership with a service provider on Fiverr?
First of all, it is important to write a detailed brief to set your expectations and goals. This is the most important step for a truly successful collaboration. Then you need to search hard to find the profiles best suited to your needs. To do this, relying on previous achievements is a good way to find the profile that suits you best.
It is also recommended to identify several service providers and contact them via email to ensure their availability and ability to deliver the desired goals before purchasing the service. As with all projects, regular communication about progress will be the best way to achieve effective collaboration.
Find a freelancer on Fiverr