Wildmoka, a multi-stream multi-screen "digital media factory"
Founded in 2013, Wildmoka – and its various cloud-native tools – facilitate the transition to non-linear, OTT, social networks. Used primarily by major broadcast players in the news and sports sectors, Wildmoka makes the impossible possible in terms of productivity and multi-screen broadcasting.
Wildmoka is an intermediary that allows you to reject all versions of videos from the main stream for social networks, different platforms. © DR
Digital Media Factory by Wildmoka is a solution that brings together a set of tools for creating and distributing clips, reels and live streams on OTT, mobile apps and social networks. Faced with the proliferation of digital publishing platforms, this custom solution addresses the need to adapt video streams to a heterogeneous set of formats and screens.
If it looks simple on paper, it is completely different in practice. It's not about taking a 16/9 premium video stream and streaming it across multiple screens and social networks as it is. What is produced must be able to adapt to the final platform. There is a multi-version, multi-functional business …
The target formats to be produced are not the classic 16/9 television formats, but square, even 2/3, 4/5 or even vertical 9/16 formats. These seemingly exotic formats are the ones offered by major social networks.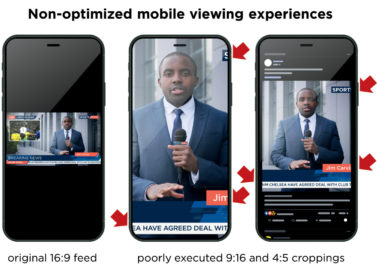 " There is a proliferation of formats, and even if producing an international football match with twenty cameras, multiple human actors and high-end technical equipment is an important task, we should not overlook the stages of post-mainstream production. What people don't realize is that it will take the same effort from the broadcaster to convert it into an incredible number of formats, whether it's clips or recaps, ad- or ad-free content, advertising while leaving live streaming visible. There is real complexity in localizing the format to the platform and target audience. Outsourcing all these productions to broadcast editors is not cost-effective. There is a new generation of editors (storytellers) who are not professional videographers, and we have developed simple tools for them that can help them follow digital codes and go quickly. Matt Loreille CMO tells Wildmock.
From "one for all" to "each for himself"
The number of desired formats varies daily and also depends on the maturity of broadcasters. There are broadcasters who will shoot their clips and broadcast them everywhere in the same way. These publishers have yet to realize the benefits of promoting their content on each of the social networking platforms. On the contrary, others will go further by playing with aspect ratio, graphics, storytelling, which will differ from one platform to another. These broadcasters perform audience segmentation based on the target broadcast platform.
When a broadcaster with a well-developed digital strategy covers a major sporting event, the content published on Facebook, Twitter, YouTube, Instagram, TikTok or Snapchat is different. Facebook will have medium-length content; On Twitter, followers want brief information on key points; YouTube has long summaries that can be up to 20 minutes long; Instagram is focused on people; Videos on TikTok play with humor just like on SnapChat.
With vertical, semi-edited, almost real-time, all these formats, the people using the tool have to be creative above all else. Not all of them are professional installers. Wildmoka has developed simple tools that can be used anywhere. Wildmoka's Tier-1 customers include hundreds of trained publishers using the Wildmoka platform. There are freelancers who collaborate and thus, depending on key events, can come and support internal teams.
During the Olympics, some Wildmoka customers send it an additional 45 live streams to cover 100% of the sporting events. These streams are used to broadcast them live on OTT platforms while placing ads. They are also used to create near-live clips as well as recaps for those who cannot watch live.
There are also clients who segment the work of editors by program or sport. For example, there are special editors for the morning show or such programs, because access to the tool is unlimited in terms of users and it is very easy to use.
Answering video according to Wildmok
Wildmoka's solution incorporates an AI-based feature called Responsive Video. We know Responsive Web, which allows sites to adapt to screens. Wildmoka developed this concept for the video. It's not just about cutting the video stream, because in many cases it won't be of good quality. During cutting, the graphics will be cut, some of the information will be missing. Wildmoka offers two levels of Responsive Video to meet the different levels of complexity of digital content streams.
The first level consists of changing the graphics in the video, adapting them to new dimensions. To do this, Wildmoka needs to be able to use the ever-growing graphics library and clean tape.
For the second level, it is also a matter of involving AI to search for and recognize different areas of interest and recompose them, ensuring that all important information is included in the new stream. This feature is called Auto ReZone. Wildmoka has won four Industry Awards with this solution.
In the BFM TV program that uses this technology, it is possible to dynamically change the position of the presenter, speakers, outdoor reports. Conversion from horizontal format to vertical format is performed in the cloud on a live antenna stream.
" This is in real time. We receive a Live Feed as input, and a few seconds later, the modified version goes live. To know how the graph exists in the new vertical format, you need to chain in the graph part. From the moment the vertical graphic charter is defined, it is possible to create a new version of the video, different from the original tape, with larger infographics, advertising, animation. And the user experience is completely changed. We say that a smartphone is not a portable TV, a smartphone should have its own experience, its own scope "Matt continues.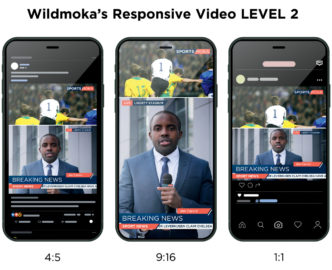 Digital strategies are becoming increasingly complex
Wildmoka cooperates with the most important broadcasters in the industry (Tier One) such as NBC, Sky, beIN, Eurosport, Canal+, BFM or France Télévisions. " No one has clients as important and prestigious as the mission to be able to stream any content of any type, in any format and digital destination, on any device. ", insists Matt Loreille.
Wildmoka sees itself as an intermediary by answering the complexity of format and screen fragmentation with an easy-to-use solution. The interface is simple for users, but that doesn't mean it's technologically simple. For example, Discovery switched partners to sign Wildmoka and trained their team in less than three months to be ready for the Summer Olympics in Tokyo. The current technical system is in 14 languages, 14 countries and 300 publishers have been trained for five weeks, each publisher having specific rights to the content to be used.
The interface is intuitive yet powerful and focuses on editorial efficiency. I give my opinion, my opinion, make some corrections and hit "publish" and that's all I have to do. I use a browser, a laptop, no need for broadband, everything is done in the cloud.
This multi-generational content is heading towards more monetization
France Télévisions is one of the first broadcasters to offer its audience all the content it owns. This means broadcasting all matches and events on their various platforms without being limited to linear broadcasting capabilities. Therefore, it has improved monetization, even if its main mission as a public channel is to offer a seamless broadcasting service open to all French people. For example, during Roland Garros, all classes are streamed live on its OTT platforms with associated pre-roll and mid-roll monetization. But France Télévisions goes further by creating different formats such as clips of the best moments, summaries and even replays. Fans can consume content whenever they want, on whatever platform they want, in whatever format they want.
" There is coverage of the sporting event itself in content delivery, but this is not enough now. By consulting social media hit tops, we understand that it's the micro-events that happen before or after an event that create buzz. Young adults have grown up with social media and what happens off the pitch has become just as important and must be covered by new content creation codes by broadcasters. This greatly complicates the digital strategies of broadcasters Matt.
A few months ago, Wildmoka was acquired by Blacklight to create an ecosystem from production to streaming. The holding took over four more companies in the media sector: ftrack (Sweden), Celtx (Canada), Iconik (Sweden) and Zype (USA).
The article was published for the first time mediaquest #48 p. 108–110