Could Bitcoin be a weapon of war in the Israeli-Palestinian conflict?
Could Bitcoin become a weapon of war? Russians, Ukrainians and Palestinians living in the Gaza Strip are increasingly interested in Bitcoin. Crypto can indeed prove very useful in such situations, but it also presents risks that should not be overlooked.
Although the Russia-Ukraine conflict raises the threat of a third world war, geopolitical tensions are heating up. In such situations, cryptocurrencies like Bitcoin can play a key role in the daily lives of ordinary people.
Crypto: Lifeline for Ukraine
Russia's attack on Ukraine shook all financial markets, including the crypto market. Here's how cryptocurrencies reacted to the worst attack since World War II.
First, Bitcoin dropped significantly in the days following the invasion. Something that can be explained by investor panic and mass liquidation of high-risk assets. After a few days, cryptocurrency assets rose strongly.
Crypto donations, which know no limits and borders, were one of the main reasons for the revival of the market. According to Reuters, Ukraine has managed to raise millions of dollars through crypto donation platforms alone.
Crypto in the service of charity
Data from blockchain analytics platform Elliptic reveals that around $19.80 million in crypto donations were made in the first quarter. Indeed, donations started pouring in when the Ukrainian government officially requested aid for Bitcoin (BTC), Ethereum (ETH) and Tether (USDT).
These donations went directly to the Ukrainian government and to charities that support Ukraine, such as the hacker group Anonymous. The funds came from individuals, organizations and crypto businesses. Even FTX, a cryptocurrency exchange that recently declared bankruptcy, got involved.
In addition to being fast, crypto donations are completely transparent. That way, they go straight to the wallets that need them, rather than falling into the wrong hands.
Since the beginning of the Russian-Ukrainian conflict, cryptocurrency has proven itself as a means of payment and support. So, could crypto donations be a weapon of war in the Israeli-Palestinian conflict?
A little history
Over the years, fierce disputes between Israelis and Palestinians turned into a deadly war. This is a generational conflict.
Jerusalem is one of the holiest lands for Christians, Jews and Muslims. Israel claims this city as its capital, but Palestine declares East Jerusalem as the capital of its future state. Israel has built several settlements in Jerusalem over the past 50 years.
At present, more than 600 thousand Israelis live there, the Palestinians deny this. There have been many attempts at peace since 1979, but tensions persist in East Jerusalem, Gaza and the West Bank.
Bitcoin: a weapon of war?
Thousands of innocent people, especially Palestinians in the Gaza Strip, have been severely affected by the conflict. Obviously, the disruption of daily life also affects the financial network.
According to National News, Palestinians are increasingly turning to cryptocurrencies. "Although the Israeli authorities restrict trade and access [à la bande de Gaza], more and more residents are turning to cryptocurrencies to make ends meet. This is despite the risks it presents," the newspaper writes.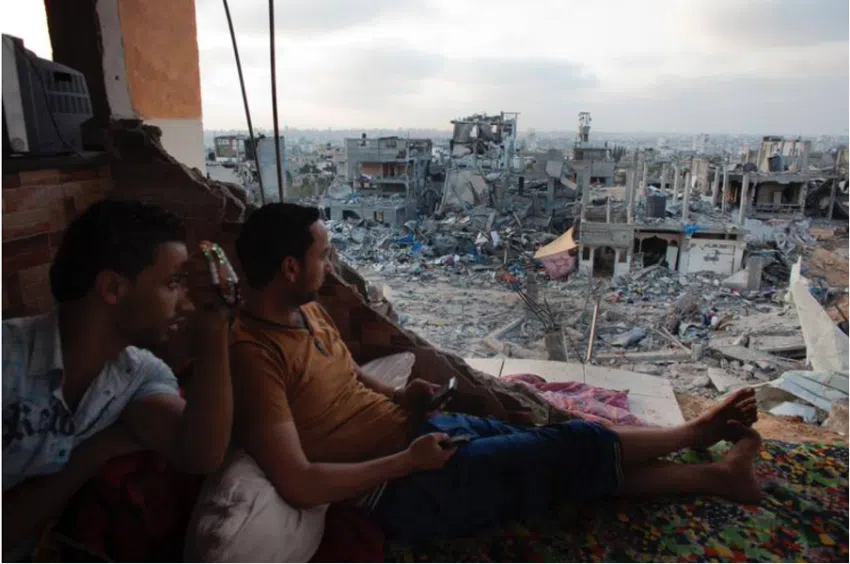 Noor, a resident of Gaza, was unaware of Bitcoin before her makeup store was destroyed by an Israeli attack in 2021. After that, he started investing in cryptocurrencies to survive.
"My life changed when I learned how to invest in Bitcoin and started selling makeup online," she said.
Dr. Tariq Dana, an adviser to the Palestinian political network Al-Shababa, believes that many Palestinians have turned to cryptocurrency because it is a way to escape Israel's restrictive measures.
"I think the decentralized nature of cryptocurrency encourages us to generate income through secure and independent platforms," ​​said Kareem, a resident of Gaza who also invested in Bitcoin.
For his part, Haitham Zuhair, a Palestinian cryptocurrency investor and businessman, said: "I am sure that the fall in the price of Bitcoin has hurt many traders in Gaza, because their initial investment and capital is not as important as we think."
"Education and experience are key to using cryptocurrency as a means to generate income and economic stability in Palestine. It only takes one wrong move to lose a fortune in cryptocurrency."
Bitcoin: a practical tool, but not without risk
Mohammed Khalid, a business journalist in Gaza, warns that while cryptocurrencies allow many Palestinians to tap into the global financial market, they are not a viable solution for the Palestinian Authority.
"It is not possible to conduct government transactions with Bitcoin… In Palestine, the cryptocurrency operating system is centralized, which means that Israel can stop deposits and withdrawals," he said.
Mr. Khalid's concern is not unfounded. Indeed, Israeli authorities have already seized $7.70 million worth of Bitcoin (BTC) and Dogecoin (DOGE) belonging to the pro-Gaza group Hamas.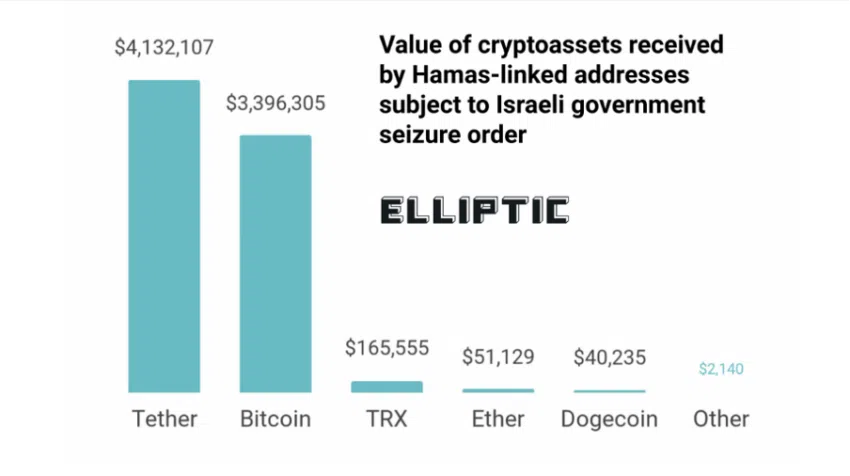 The result
Fiat currencies have always been manipulated during times of war. ATMs are shutting down and governments are banning banks from selling international currency or accepting certain types of payments. The result: many citizens cannot carry out transactions.
In extreme circumstances such as war, local banks holding foreign currency become unavailable. Governments are therefore offering alternatives such as food and fuel vouchers. As seen in Ukraine, these conditions create uncertainty and increase inflation rates.
Cryptocurrency can very well solve many of these problems. For example, P2P payments cannot be regulated or banned by any military organization or government. It is therefore a decentralized and secure payment method that can theoretically withstand any political regime.
Finally, it is important to remember that cryptocurrency has already proven itself. Since the start of the Russia-Ukraine conflict, millions of dollars in anonymous donations have crossed blockchain borders. Therefore, it is reasonable to assume that cryptocurrency could play a key role during the third world war.
However, Bitcoin and other cryptocurrencies also have their drawbacks, especially when it comes to security. Therefore, cyber security should be a top priority for crypto project developers.
Refusal
All information on our website is published in good faith and for general information purposes only. Any action taken by the reader based on the information found on our website is entirely at the reader's own risk.