How a safe shipment almost started World War III
A deadly explosion in Poland sparked hours of speculation about whether NATO would join the war against Russia.
Source: Statecraft Manager, Connor Echols
Translated by readers of Les-Crises
Recently, it became known that two rockets fell on an agricultural town located in a quiet area of ​​Poland. The tragic explosion killed two residents and was the first manifestation of the war extending from Ukraine to NATO territory.
Western officials now agree that the Russian-made S-300 missiles were launched by Ukrainian forces as part of operations deployed against Russian attacks on their infrastructure. But the result came only after a long day of recriminations, with many political and media leaders going so far as to condemn Moscow and call for an immediate response, possibly invoking NATO's collective defense clause.
To put it bluntly, many people spent the day (November 15, 2022) calling for war between the world's two largest nuclear powers.
The incident provides a unique insight into how moments of crisis, often marked by little information and strong emotional reactions, can create the conditions for meteoric escalation.
"We are all living on the brink of disaster, and the United States should not be so confident that forces beyond our control will not overtake it," he said.
To better understand this dynamic, it is useful to look at the events of November 15.
At 12:38 a.m. EST, the first sign that something was amiss in Poland came when Reuters reported that Polish Prime Minister Mateusz Morawiecki had called an emergency meeting of his national security team. Shortly after 1:00 p.m., numerous Polish media announced that rockets were behind the extraordinary gathering.
The first images of the explosion soon appeared, and some analysts pointed out that the debris closely resembled the S-300 missile, part of the Soviet-era missile defense system that Kiev still uses today.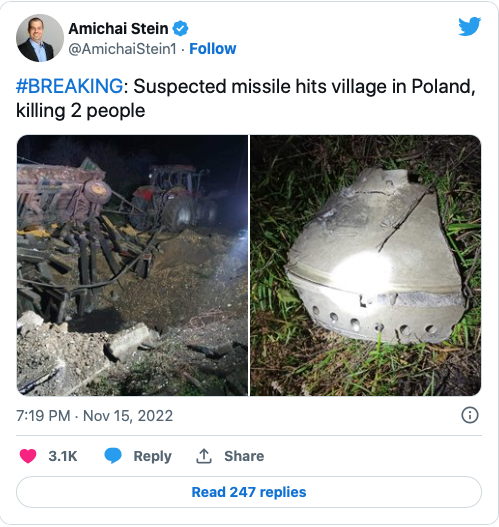 But when it became clear that Russia was an unlikely culprit at 2 p.m. AP News published a one-sentence story from a single source that would have far-reaching consequences: "A senior US intelligence official claims that Russian missiles have entered the territory of NATO member Poland, killing two people. »
Within minutes, prominent media figures were already calling for NATO to invoke Article V, which calls on NATO to come together to determine a collective response if one of its member states is attacked (not to mention, contrary to what everyone thinks. We believe that Article V is a quick response does not compel it to give, and it is likely that Congress will be called upon to approve such a measure).
At 14:10, Ukrainian journalist Nika Melkozerova, who is well-followed in the West, tweeted, "Okay… Article 5? ". After 20 minutes, Melkozerova calmed down her statements and called on the relevant parties to "wait for information from official sources."
But Lesia Vasilenko, a member of the Ukrainian parliament, was not in such a hurry. He simply tweeted "Article 5" at 2:29 p.m., later adding that Russian President Vladimir Putin's strikes were "testing limits" and that "reaction = appeasement."
Paul Massaro, a prominent US supporter of Ukraine and a member of the US Helsinki Commission, said around the same time that "Russian terrorism" had struck Poland, adding shortly afterwards that " [difficile] believe it was an accident.
Some NATO leaders seemed to be following the path of Massaro and Vasilenko. At 2:46 p.m., Slovak Defense Minister Jarosław Nad tweeted, "I am very concerned about Russian missiles landing in Poland. we will be in close contact with [les alliés de l'OTAN] to coordinate [une] answer".
"Europe's top diplomat" was reflected in Nad's article Politics, "it is appalling to see a desperate regime attack Ukraine's critical infrastructure and cause casualties in allied territories," he said. (The diplomat hedged, noting that the identity of the attacker has not yet been confirmed).
A Pentagon spokesman had the misfortune of scheduling a press conference for 2:00 p.m., when little was known about the explosion. "As far as our security obligations and Article 5, I don't want to speculate," Patrick Ryder said, adding that he could not confirm the report.PA. "However, we have made it clear that we will protect every inch of NATO territory."
His banal promise to defend "every inch of NATO territory" was met with a huge reaction.
Given Russia's senseless attack on NATO, it was nothing more than the organization's credibility as a collective defense organization.
At least that's what Atlantic Council's Anders Aslund said at about 3:30 p.m. In a direct message to President Joe Biden, Aslund said, "You promised to defend every inch of NATO territory." Are you going to bomb Russia now? He added that Biden's first step should be to establish a no-fly zone over Ukraine before "continuing to clean up Russia's Black Sea fleet." »
Meanwhile, Sergei Sumlenny, a well-known expert on European politics, suggested in a viral tweet that the attack was a deliberate extension of Russia's attack on Ukrainian infrastructure.
Soon after, Mykhailo Podoliak, one of the chief advisers of Ukrainian President Volodymyr Zelenskiy, said that the strikes were "not an accident, but a deliberately planned cuckoo". [la Russie], hidden as an error. »
Russia rejected this claim and said that "the targets near the border of Ukraine and Poland were not hit by Russia's means of destruction." But, as is easily understood, for many supporters of Ukraine, Russia's word is no longer of much value.
Ukrainian Foreign Minister Dmitry Kuleba responded at 4:35 p.m. that Moscow "supports the conspiracy theory that it was a Ukrainian air defense missile" that hit Poland. "No one should absorb Russian propaganda or amplify its messages," Kuleba said. Around the same time, Zelensky wrote on his Twitter account that "Russia's attack on collective security in the Euro-Atlantic space is a significant escalation of the conflict."
Fortunately, the Biden administration didn't take the bait. Despite Kiev's harsh comments, US and Polish officials have insisted that more time is needed to investigate the incident, saying the origin of the missiles is unclear. Biden, who is in Bali for the G20 conference at 7 p.m., offered his "full support" for the Warsaw-led investigation after a phone call with Polish President Andrzej Duda.
Speculation and calls for escalation mounted as Western officials held emergency meetings. It took until almost midnight AP News finally, "three U.S. officials said initial analyzes indicated the missile was fired by Ukrainian forces at an approaching Russian missile on Tuesday amid a fierce wave of devastating bombings against Ukraine's electrical infrastructure."
Even after the news broke, Podoliak argued that NATO should establish a no-fly zone over Ukraine, which would likely force Western pilots into direct combat with their Russian counterparts and plunge the four nuclear-armed nations into war. Kyiv continues to deny the launch of the missiles.
This morning, Biden disputed the Ukrainian version, saying that it was "very unlikely" that the missiles were launched by Russia. NATO Secretary General Jens Stoltenberg also said there was "no indication that this was the result of a deliberate attack," but added that Russia bears ultimate responsibility for the attack, given Moscow's occupation and continued attacks on Ukrainian cities.
According to Beebe, the timeline of events from the first report of the missile attack on Poland highlights the mismatch between the interests of the United States and Ukraine when it comes to NATO's direct involvement in the conflict.
"There is a real conflict of interest in this, and the Biden team has been quite cautious in gathering the facts about what happened and making hasty judgments about possible responses," he said.
In the end, the voices calling for calm prevailed over the voices of the hawks. But the incident is a stark reminder that misinformation spreads quickly during a crisis and can lead to dangerous escalation. Therefore, it is even more important to have such mainstream media AP News As journalist Ken Klippenstein pointed out on Twitter, it provides the correct information in advance.
Klippenstein wrote: "That's why journalists need to verify information before reporting it."
Source: Statecraft Manager, Connor Echols, 16-11-2022
Translated by readers of Les-Crises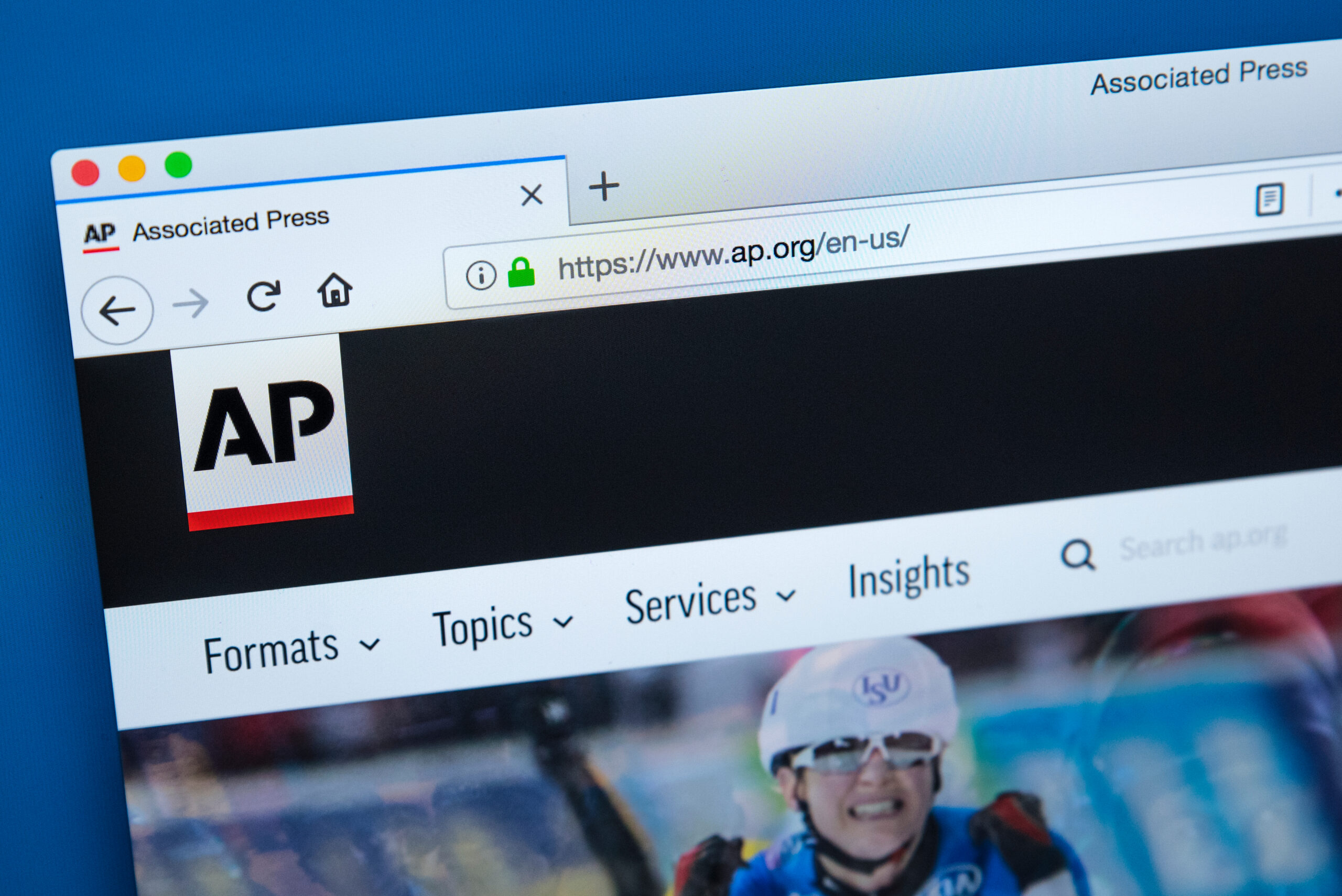 We present this article to you to broaden your horizons. This does not necessarily mean that we endorse the view developed here. In all cases, our responsibility rests with the comments we make here. [Lire plus]We are in no way bound by comments the author may make elsewhere – or even comments he may make in the future. However, we would appreciate it if you could let us know via the contact form any information about the author that might damage his reputation.