President Lula condemned the attack on the Brazilian capital by "fascist vandals".
Find all our live streams here #BRASIL
23:04 : @Pommecannelle46 Momentary radio silence on social networks. Last I heard he is still in Florida. The last image we have of him is of him alone at a table in a fast food restaurant during the holidays.
23:03 : Did Bolsonaro react?
23:00 : Palacio do Planalto, para @folha

23:00 : This photo has become the iconic image of this attack on the Brazilian parliament.
22:58 : Rodrigo Pacheco, president of the Senate and Congress (a merger of the two Assemblies), announces that he will soon return to Brazil and call an extraordinary session.
22:52 : According to CNN Brasil, we are now talking about at least 30 people arrested in the precincts of the Senate.
22:51 : ❗️ATENÇÃO❗️Prepare paralysis for Refinaria Isac Sabbá in Em Manaus, Bolsonaristas, CMA and Grupo Atem in Norte Region. Objektivo é interrupt or avastecimento de fire. Impulsionados sent to Brasília and contam com ?financiamento?. https://t.co/Eiw0GVXY3z

22:51 : According to a journalist based in Manaus, a large city in the heart of the Amazon rainforest, protesters are trying to shut down an oil refinery.
22:48 : O dia da infâmia do terrorism bolsonarista #oglobo

22:48 : The looting of Congress, in a before/after photo.
22:46 : Ditto in Rio, Mayor Eduardo Paes has announced increased security to prevent any coup attempt.
22:46 : Sao Paulo Mayor Richard Nunes reports Hey Globo Demonstrators advancing towards state institutions were expelled.
22:43 : Definitely, the various ministries are not located in this famous place of three powers. During the attack, neither President Lula, nor deputies, nor senators were present.
22:42 : How was the government organized at the beginning of the attack? Were the president/ministers at the scene and then evacuated?
22:42 : The parallels with the attack on the Capitol are still unfortunately incredible… Same wheels, same situation, same opposite camps… Even within two days…
22:42 : In the heat of the moment, I didn't have time to tell you that Lula announced the closure of Brazil's main arteries for the next 24 hours.
22:39 : Lula announced that he would immediately return to Brazil after his speech. " Now I'm going back to Brazil, I'm going to visit the three looted palaces. You can be sure it won't happen again. We will find out who financed it."
22:38 : @Vanilla Indeed, it remains only to re-read the report of our special correspondent Valentine Pasquesoone, who met Bolsonaro fans on November 1. Many said they "did not accept" the result of the presidential election, which crowned Lula with a short head.
22:36 : Hi Peter. Sad news tonight. There were already demonstrations during the elections… If the security system and the armies are not strengthened, Lula will not retain his entire mandate… Brazil will fall into chaos.
22:36 : I see a very very very temporary balance of three to five people who were arrested after this coup.
22:35 : Brazilian media Hey Globo He announces that the presidential palace and the Supreme Court have been taken back from the demonstrators. There are still two rooms to reclaim from them.
22:33 : There is no doubt that these social networks were used to coordinate marches. Screenshots of Whatsapp accounts of regional leaders of these parades spread on social networks.
22:32 : Good evening Pierre, what role do social networks (Telegram, WhatsApp) play in the mobilization of Bolsonarians? Thank you!
22:30 : "Repeatedly and publicly, the demonstrators called for an institutional break, calling for the military to intervene to prevent Lula from being sworn in as president. It is clear that today we are no longer in the realm of words, but of deeds.
Gaspard Estrada spoke on franceinfo this evening.
22:27 : We condemn today's attacks on the Presidency, Congress and Supreme Court of Brazil. The use of violence to attack democratic institutions is always unacceptable. We join @lulaoficial in calling for an immediate end to these actions.
22:26 : US Secretary of State Anthony Blinken condemns attacks on parliament and Supreme Court. "The use of violence to attack democratic institutions is always unacceptable. We join Lula to demand an immediate end to these actions."
22:19 : Sto seguendo con preoccupazione quanto sta accadendo in Brasile. I don't want election results semper e comunque rispetti.
22:19 : The Italian Foreign Minister also goes there in his tweet: "Any act of violence against democratic institutions should be strongly condemned, and the results of the elections should always be respected."
22:18 : Solidarity today @LulaOficial y al pueblo del Brasil. El fascism dar un golpe decides.
Las derechas no han podido maintainer el pacto de la no violencia.
The reunification of the OAS urgently viva como institución quiere seguir with a democratic institution and implementation.
22:18 : "Fascism has decided to strike"Colombian President Gustavo Petro reacted. "The rights could not keep the non-violence pact."
22:15 : Two years after the Capitol, the far-right again attacks institutions in #Brazil to protest the verdict of the ballot box. My support to Brazilians and President Lula. Now more than ever, let us defend and protect our democracies every day.
22:15 : As mentioned in the comments, the President of the National Assembly, Yael Braun-Pivet, also reacted to this attack on the Brazilian Parliament.
22:14 : Eu me coloco à disposibilidad de all os Chiefes de Poderes para fazermos a reunión para dejar absolutely unquestionable que os três Poderes estão mais unidos do que nunca a lehte democracia.
22:14 : The president of the Brazilian Chamber of Deputies, Arthur Lira, announces a meeting of the heads of the three powers (his assembly, the Senate and the Supreme Court). "To make it absolutely indisputable that the Three Powers are more united than ever in favor of Democracy".
22:13 : A vosade do povo brasileiro e as institutions democráticas devem serspeitadas! O Presidente @LulaOficial for being unconditional in France.
22:12 : The will of the Brazilian people and democratic institutions must be respected! President @LulaOficial can count on the unwavering support of France.
22:12 : Emmanuel Macron condemned the attack on the Brazilian parliament in a tweet: "The will of the Brazilian people and democratic institutions must be respected.
22:11 : Quem fez isso encontrato e will be punished. Democracy is guaranteed direito de livre expression, it requires as pesoas respeitem as institutions. Nothing before this date. So very good.
22:11 : Brasília is accompanied by hoje with barbárie. Those pessoas que chamamos de fascistas, o que ha de abominável na politica, invade to palacio eo Congresso. Ahamos que houve falta de segurança.
22:11 : "You must have followed the brutality in Brazil today. These men we call Fascists, the most abominable act of politics, have taken over the Palace and Congress. We assume there was no security. Those who did this will be found and punished. Democracy guarantees the right to freedom of expression, but at the same time people respect institutions. "There is no such precedent in the history of the country. They should be punished for this."
22:10 : Federal Distrito Federal decided to Lula for no intervention. #EquipeLula https://t.co/1gHjIuDGLf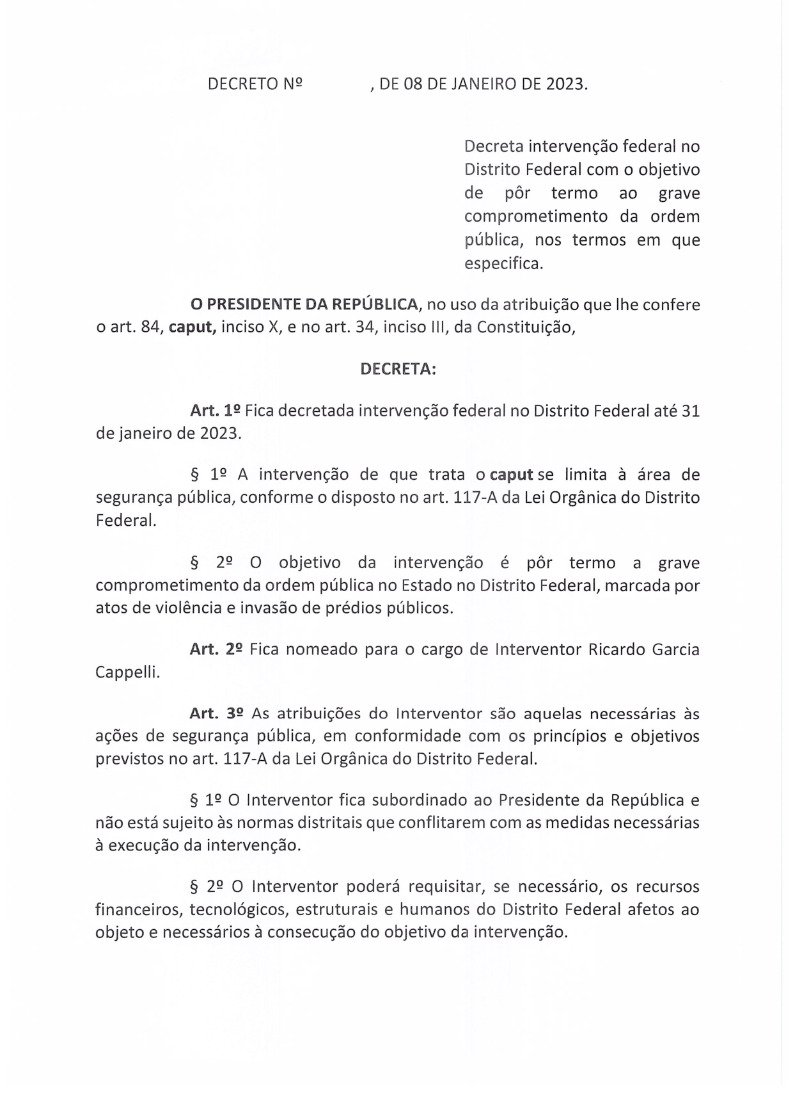 22:32 : Lula recently posted on social media the text of his decree to task the federal government with maintaining order in the Brazilian region.
22:07 : sucediendo in Brazil a lo que que repudio openly. I will unconditionally contact an Argentinian @LulaOficial.
22:07 : Argentine President Alberto Fernandez reacted to the attack on the parliament in neighboring Brazil: "I want to express my rejection of what happened in Brazil. My and the Argentine people's unconditional support for Lula In front of this coup attempt you are facing".
22:09 : Francois Hollande reacts to the attack on the parliament in Brazil France 5: "If we as citizens do not fight to protect democracy, it will happen again.."
(FRANCE 5)
22:01 : I strongly condemn the attack on the democratic institutions of Brazil. Full support for President @LulaOficial Da Silva, democratically elected by millions of Brazilians through fair and free elections.
22:01 : Charles Michel, President of the Council of Europe "Unreservedly condemns the attack on democratic institutions in Brazil" and assures Lula "full support".
21:59 : Lula talks about the events "Unprecedented in the history of Brazil."
21:58 : Lula decreed federal intervention in the Federal District, the state of Brasilia. Therefore, the federal police have the right to intervene to restore order.
21:57 : Lula assures that "all the culprits will be found and punished". He insists that leftist parties have never done this.