Does the future of the creative economy lie in the south of France?
Content creator is the new trendy profession. So much so that it has become the profession most often cited by children when asked what they want to do when they grow up. Over the past two decades, social networks have become increasingly central to our lives, but only in recent years have content creators truly professionalized themselves on a large scale, developing what we now call the creative economy. If the United States is a leader in this field, France can become one of the strongholds for this in Europe and the world.
What is the creative economy?
The creative economy is a term that refers to all the people who make money by creating online content in the form of videos, podcasts, blogs or any other form of digital content. These creators can be influencers, artists, journalists, or anyone who uses the internet to share content with an audience.
The creative economy has experienced strong growth in recent years thanks to the explosion of social networks (Facebook, Snapchat, Instagram…) and online platforms (YouTube, Twitch, TikTok…) that allow creators to easily and widely distribute their content. Many creators also use crowdfunding platforms like Patreon to get financial support from their followers.
Creators are generally independent and have no boss or hierarchical structure, allowing them to work at their own pace and choose topics that interest them. It also allows them to benefit from the flexibility and freedom that comes with self-employment, but it can also create problems such as lack of financial stability and difficulties in running their own business.
The creative economy is often seen as a way for young people to find work and make a name for themselves in the online world. However, many creators are also seasoned professionals (lawyers, financiers, filmmakers, doctors…) who use the internet to distribute their work and reach a wider audience. Regardless of their experience or field of expertise, creators are a diverse and talented group who make significant contributions to digital literacy.
"Collaborations" have also increased between creators and businesses, who often use influencers to promote their products and services. This can be a win-win, as creators can get paid to promote products they like, and businesses can benefit from the influencer's trust and fame.
The creative economy has also sparked debate about how creators should be compensated and the ethical practices of companies that use their work. Many creators complain about the lack of transparency and how they are compensated.
The future of the creative economy
The future of the creative economy is difficult to predict with certainty, but there is no doubt that online content creation will continue to grow and become increasingly important.
So, with over 124 million subscribers on his main account, MrBeast, currently the most watched YouTuber in the world, could very well be. YouTube's first billionaire. MrBeast, also known as Jimmy Donaldson, is a creator of content through his community (a first for YouTube). significant income. He is known its difficulties and his charity videos and more ambitious productions.
There are several ways to monetize MrBeast's videos on YouTube:
advertising on YouTube that allows you to earn money every time his videos are viewed

advertisers pay to run their ads on his videos

partnerships and collaborations with companies and brands

selling items like t-shirts or hats on your website or on Shopify
And more recently, by opening their own brick-and-mortar businesses his fast food chain MrBeast Burger and his Feastables range of chocolates.
Jimmy is therefore seen as a role model to follow in order to continue creating content online.
France as a center of the creative economy
France is already a major hub for the creative economy, and if we believe it Alexander Quilghinico-founder O-Rigines Media our country "has all the ingredients to continue to be even more in the future". Indeed, France has a strong "culture of creativity and innovation, as well as a large number of talented creators producing quality content.
Alexandre Quilghini is a pioneer in monetizing communities and digital content. His experience goes back more than two decades when he realized he could use Skyblog's audience to sell on eBay. Then he developed several communities on Facebook around him and made money travelfootball or viral contentthus pioneering digital migration and digital entrepreneurship.
If the model continues to turn, Alexandre sees more. "Creators should come together and become professional." He believes that content creators should have access to "more knowledge about the creative economy, more opportunities to make more money, more resources, more equipment, more studios…" It is on this last point that he works with his new project: bringing together the world of digital creativity and the world of cinema.
This may seem surprising, but it has already been proven… by the work of MrBeast! Jimmy Donaldson has already tested this strategy by betting on the purchase of a Almost 5,000 m2 mega studio for over $12,000,000. "I am developing the field of internal creativity Provence StudiosIt is the largest film studio in France and our goal is to be an important destination for creators, offering them our experience, capabilities and connections in the world of cinema and business to find a profitable and sustainable development model."
This adventure also features two key people: Provence Studios founder Olivier Marchetti and Micke Ristorcelli. Olivier Marchetti made a 360 turn. From a family business in logistics transport, he turned everything into a movie studio to become the number 1 in France today and the only private studio with an American production today. . Meanwhile, Micke Ristorcelli was one of the biggest producers of French music videos and switched cameras to join Olivier and help him develop Provence Studios. Now he is responsible for its development.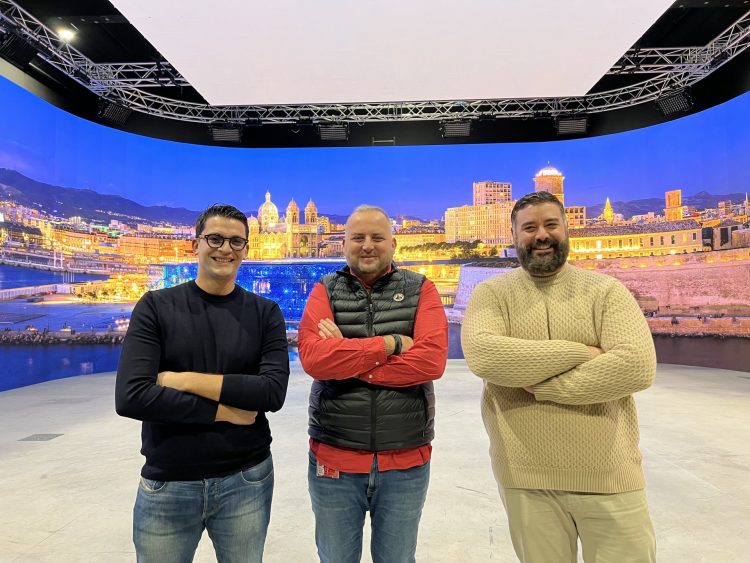 His project is to dedicate 10% of this 26-acre studio to digital creativity and make monetization accessible to all creators to turn their passion into a real career. The creators will be:
acquired skills that were lacking: framing, editing, sound, graphics, etc.,

supported and monitored in their projects (with a monthly training meeting)

they gather around the same passion and in the same place that will allow them to create their synergy
Synergy already exists because O-Rigines is already a collective working on this model in collaboration with production professionals as well as influential creators. Ibra TV, Louane also Captain Morgan or Little Gypsy and Lexbra…
If Alexandre Quilghini decided to develop this activity in France and especially in the south, it is not accidental. According to President Emmanuel Macron, "the time has come to invest in the cultural and creative industries, the cinema and the audiovisual sector. Marseille has the opportunity to do so. There are talents. There are studios. There are dreams and opportunities for young people. Here the actors have a project to create, and the region I welcome is ready to make a very serious commitment to it. A large audiovisual project on the scale of the Mediterranean arc, with training in production and filming infrastructures on the one hand, and in film and audiovisual professions on the other."
In 2020, 385 shootings took place in Marseille. 6630 extras, 639 actors and 1812 technicians from the region were involved in the filming. In the last year, the economic activity of the cinema sector in the area was close to 67 million euros.
France also has a large audience consuming online content, which creates good opportunities for content creators. In addition, France has a strong system of copyright and intellectual property protection, which is important to protect the interests of creators. France also has many initiatives to support creators, such as startup incubators and funding programs for startups. In addition, France has a strong tradition of collaboration between companies and creators, which can be beneficial for both parties.
It is clear that the creative economy is only in its infancy. Content creators can finally dream of financial success that matches their talent and expectations. France, in turn, has a real role and can be a driving force in the organization and industrialization of the economy of these creators.
<< Həmçinin oxuyun: Web3 brendlər və məzmun yaradıcıları arasında münasibətləri necə dəyişdirir >>>