Energy reserves continue to decline
The importance of nuclear energy in France is a comparative advantage for our country compared to other European countries that depend on Russian energy, but the substantial maintenance of 25% of French reactors has led to the risk of power outages in winter.
In this paper, we examine the implications of these factors for nuclear power, renewables, and fossil fuel-related stocks.
(Image: Statistics)
The importance of the energy sector for the French economy
In France, the energy sector is a particularly important investment area for investors. The energy sector is truly a pillar of the French economy and is closely linked to industry and services, making it an area of ​​choice for investors looking to diversify their portfolio.
In addition, the power sector contributes significantly to government revenue through taxes and royalties, making it a strong and stable sector for investors looking for stable returns.
In addition, the energy sector plays an important role in France's energy transition to cleaner and more sustainable energy sources, which offers many investment opportunities for environmentally conscious investors.
Performance Analysis of Energy Sector Stocks in France
Energy stocks have performed relatively poorly in recent years. However, after the Covid-19 crisis and the war in Ukraine, the price of oil exploded and so did energy stocks, allowing buyers of energy stocks to realize capital gains.
With competition from renewable energy sources and the nuclear crisis in France, traditional energy resources are having a hard time, but this is a great opportunity for companies that want to revolutionize the renewables and new energy sector.
The energy sector remains an important area of ​​the French economy and can be attractive to investors looking for diversification and long-term returns.
For example, French oil giant Total Energies has gained nearly 184% since its low in March 2020 (the COVID crisis).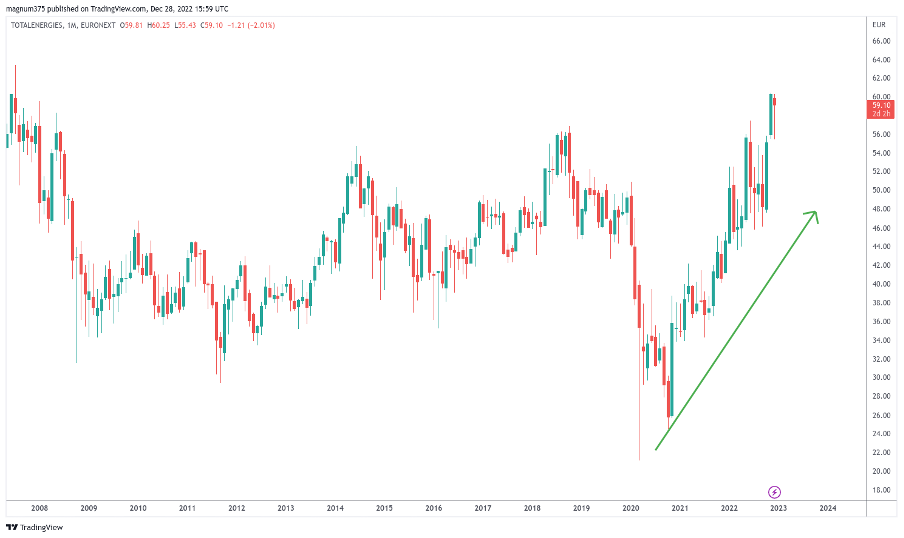 (Image: TradingView)
But the share price for MCPHY Energy, a French renewable energy company, has fallen since January 2021 as the market is in a general correction. In addition, interest rates are rising, which has affected risky assets and sectors. But now the French economy needs these alternative energy sources and we may be at the beginning of a new era in which renewable energy will experience an unprecedented boom.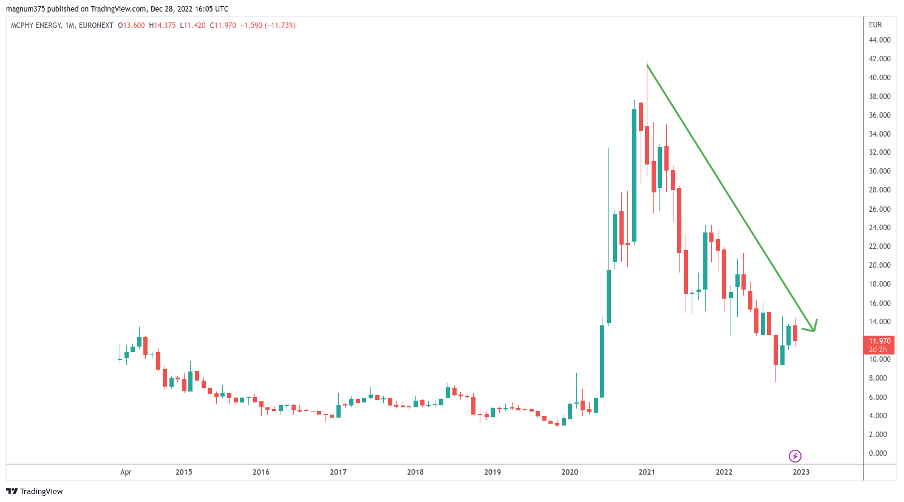 (Image: TradingView)
Opportunities for investors in the energy sector in France
For investors, the French energy sector offers many opportunities, especially in the field of renewable energy. Maksim Manturov, Head of Investment Consulting at Freedom Finance Europe, says: "Increasing fossil fuel prices will accelerate the transition to renewable energy in the medium term. With rising gas prices, the situation is improving for solar photovoltaic installations, large-scale battery storage, and electric heat generation for buildings and industry. The green revolution is moving fast. A 2012 International Energy Agency report stated that "growth in renewable electricity generation worldwide is accelerating faster than ever, supporting the emergence of a new global energy economy." Since then, this trend has intensified as the geopolitical situation has emphasized the need for global energy independence. »
One of the most ambitious targets for the development of renewable energies in Europe has indeed been set in France, aiming for 32% of electricity produced from renewable sources by 2030.
This target was set by the French government as part of the energy transition law for green development, and it offers many opportunities for investors looking to develop renewable energy in France.
Also read our guide on how to invest in SRI
How to invest in energy sector stocks?
There are several ways to buy shares in the energy sector in France:
Buy individual shares: You can buy shares of a company in the energy sector using an online broker or online bank. You will need to open a trading account and complete the transaction online.
Invest in an energy sector equity fund: You can invest in an equity fund that invests in companies in the energy sector. These funds are managed by a fund management company and you can buy them from a bank or online broker.
Invest in an energy sector ETF: ETFs (Exchange Traded Funds) are exchange traded funds that allow you to invest in a wide variety of sectors and asset classes. There are ETFs that invest in companies in the energy sector, and you can buy them from a bank or online broker.
Also discover our guide to investing in the stock market in 2023
All our information is general in nature. They do not take into account your personal situation and do not in any way constitute personalized recommendations for the purpose of carrying out transactions and cannot be considered a financial investment advisory service, nor any encouragement to buy or sell instruments. The reader is solely responsible for the use of the information provided, without any recourse against the publishing company Cafedelabourse.com. The publisher of Cafedelabourse.com cannot be held responsible in any way for any error, omission or inappropriate investment.